Looking for a summer activity that's both fun and challenging? Inflatable paddle boarding might just be what you're looking for! This growing sport can provide hours of enjoyment, but it can also test your skills.
If you're new to paddle boarding, don't worry – there are plenty of great places to buy inflatable paddle boards so you can get started on your adventure.
What is an inflatable paddle board?
An inflatable paddle board is a type of board that is inflated with air in order to provide buoyancy. Paddle boards are often used for surfing, but they can also be used for
Stand Up Paddleboarding, which is a type of water sport that involves paddling with a longboard.
Inflatable paddle boards are often made from PVC or another type of plastic, and they usually have multiple chambers that can be inflated to different levels in order to provide different levels of stiffness.
Inflatable paddle boards are usually more expensive than traditional paddle boards, but they offer many advantages, such as being lighter and easier to transport.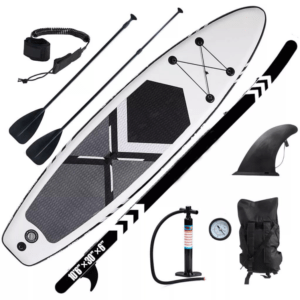 What to look for in an inflatable paddle board
If you're thinking about getting an inflatable paddle board, there are a few things you'll want to keep in mind.
First, consider the size of the board. If you're a beginner, you'll want a larger board for stability. If you're more experienced, you can go for a smaller board that's easier to maneuver.
Second, think about the type of water you'll be using the board in. If you're primarily going to be paddling on calm lakes and rivers, you won't need a board with as much capacity for rough water as someone who wants to use their board in the ocean.
Third, consider your budget. Inflatable paddle boards can range in price from a few hundred dollars to over a thousand dollars. decide how much you're willing to spend before you start shopping around.
Finally, think about any extras you might want, such as a leash or SUP paddle. Most inflatable paddle boards will come with everything you need to get started, but it's always nice to have extra gear just in case. Keep these things in mind and you'll be sure to find the perfect inflatable paddle board for your needs.
Different types of Inflatable Paddle Boards
One of the most popular types of inflatable paddle boards is the all-around board. These boards are versatile and can be used for a variety of activities, including yoga, fishing, and surfing. All-around boards are usually between 10 and 12 feet long and have a wide, stable design. If you are just starting out, and all-around board is a great option.
Another popular type of inflatable paddle board is the racing board. These boards are designed for speed and performance and are often used in competitions. Racing boards are usually between 14 and 16 feet long and are much narrower than all-around boards. If you are an experienced paddler who wants to compete, a racing board is a good option for you.
If you want to use your inflatable paddle board for yoga or fitness, there are also specialty boards available. These boards have a wide, stable design similar to an all-around board.
Get your Inflatable Paddle Board From JTSUP
So if you're in the market for a quality inflatable paddle board, get yours now from JTSUP!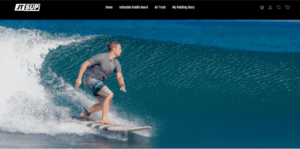 JTSUP has some of the best inflatable paddle boards in the market ranging from $289 to $399. Their paddle boards all come with the paddle board essentials: ankle cuffs, paddles, safety leash, pump, and a carry bag to fit your deflated paddle board pklikes.com.
They boast military-grade material so you know you're getting your money's worth and a very essential anti-slip deck so you know you will be enjoying your time standing up on the waves as you paddle through the water.
There's almost nothing like the JTSUP inflatable paddle boards in the market, they even have paddle boards meant for Yoga! They know inflatable paddle boards, everything we've talked about so far, JTSUP has it in their paddle boards!
So if you plan to enjoy the summer, get yourself a JTSUP Inflatable Paddle Board and ride the waves in style!